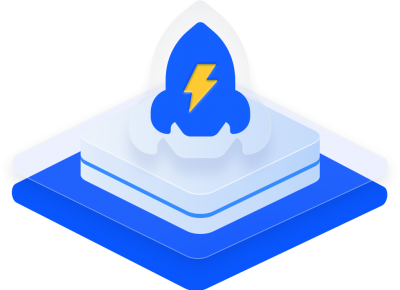 Allow you to easily handle large flows and ensure high-speed operation.
Advantages of Multi-CDN Acceleration and Defense
Resist all types of attacks
MyAsiaCloud high-defense Multi-CDN solution has distributed data centers across the world.
Utilizing the global Anycast traffic cleaning technology and the DDoS defense capability above Tbps level, it can detect malicious attacks in 5 seconds, quickly block them in 10 seconds, reserve 4T bandwidth, and resist all DDoS attacks through various defense methods.
Dedicated line & CN2 direct connection
The Asia Cloud Multi-CDN service provides an exclusive mainland preferred BGP direct connection to mainland China.
For websites whose servers are located overseas, create a mainland visitor experience that is close to that in China. Through the access of CN2 dedicated line or MPLS dedicated line, the domestic ping value only needs 15-60ms.
In attack protection mode, maintain high-speed access!
In the case of an attack, it will bypass the high-defense node, and after cleaning the traffic, it will use the optimized routing control to greatly reduce the impact of the attack, and use the intelligent algorithm of the high-speed node to clean the CC to avoid most CC attacks and maintain efficient access.
Myasiacloud

provides services with SLA support guarantee.
Malicious attacks can be detected in 5 seconds or less, and any website attack of any size or duration can be quickly blocked in 10 seconds.
Myasiacloud

provides high-quality and caring services.
A team of top security technical engineers monitors and assists attacks in real-time and responds to various complex attacks at any time.
Intelligent node scheduling-guarantee speed and network availability.
Optimize traffic scheduling, match optimal access nodes, multi-resource mutual backup-improve reliability, match optimal nodes for users in different regions, and multi-resource backup to avoid systemic risks.
Multi-CDN Acceleration Solution
Download dedicated stand-alone
acceleration site
USD$600/month
Myasiacloud focuses on resource integration, integrates the strengths of hundreds of companies, integrates high-quality resources and self-owned resources of many famous manufacturers, establishes a CDN global node and an intelligent scheduling system, provides the nearest node according to the actual business needs of customers, and improves the user's quick access experience.
High-speed optimal BGP accelerated traffic package
Contact the business, consult the Multi-CDN accelerated defense solution for free, 
Apply for a test!
Multi-CDN acceleration defense technology architecture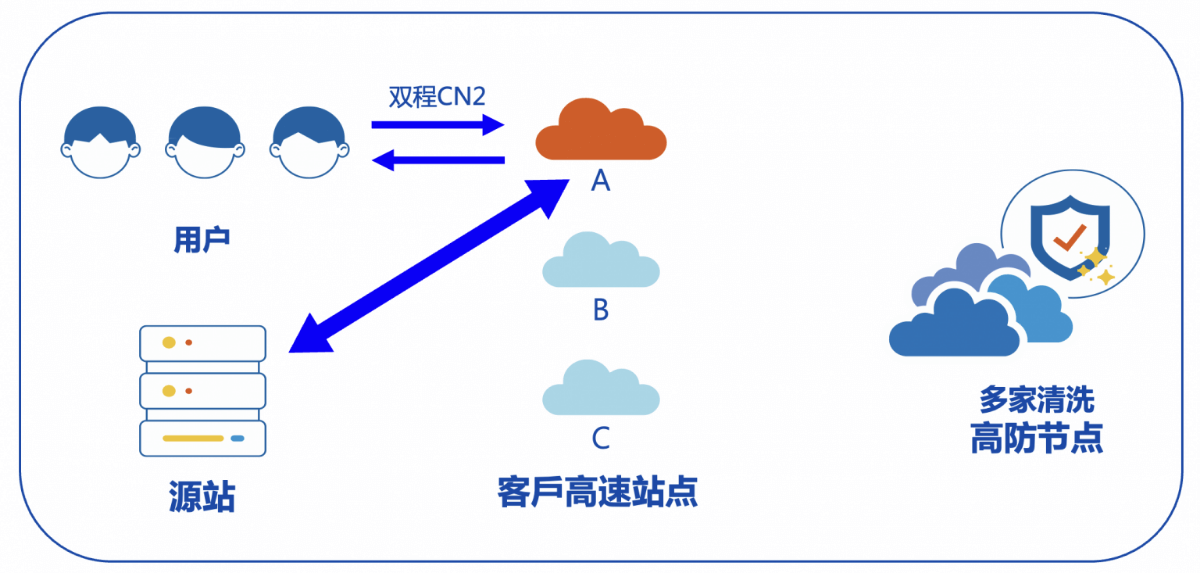 CDN Acceleration
Asia Cloud Multi-CDN achieves coverage of users in mainland China and overseas through multiple CDN nodes distributed overseas and self-built nodes.
When the traffic is within the normal business traffic range, multi-round-trip CN2 acceleration is used to improve the access speed of users in mainland China. Users in other overseas countries can increase their access speed by accessing the nearest node.

(A, B, and C are the high-speed architecture of independent merchants, and merchants do not affect each other)
When DDoS and CC Attack - Initiate Defense
Asia Yunhai High Defense Multi-CDN has a number of upstream cleaners.
When the customer's business is facing DDoS and CC attacks, the intelligent dispatching system can quickly identify and detect the attack within 5 seconds, automatically switch the line defense mode, and point to the traffic cleaning centers distributed around the world (including KDDI, Incapsula...etc.)

Backhaul CN2 optimized line: After the attack traffic enters the cleaning center for cleaning, the clean traffic passes through CN2 to accelerate the backhaul to ensure network availability.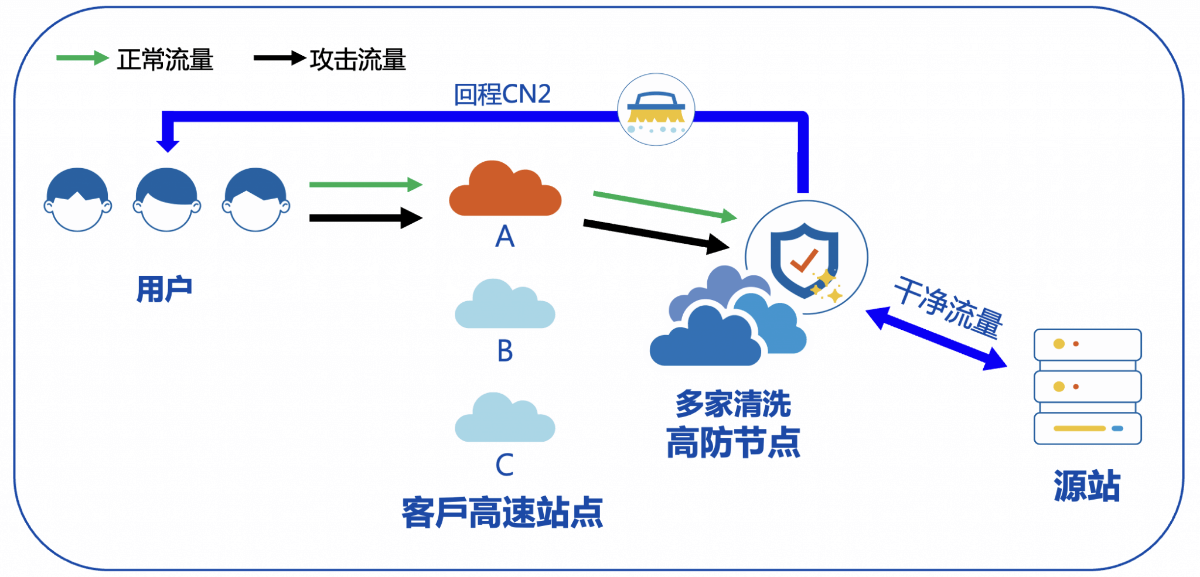 —Professional Multi-CDN defense technology, 7×24 hours of technical team protection, you can expand your business with peace of mind
Suitable for foreign trade e-commerce, non-profit websites
Suitable for small games, e-commerce websites
Suitable for games,
financial websites
Suitable for gaming,
finance, payment sites
200,000 concurrent connections/s
500,000 concurrent connections/second
1 million concurrent connections/second
300G-DDoS Defense
2 days/month
Unlimited – DDoS Defense
2 days/month
Unlimited – DDoS Defense always on
1 million concurrent connections/second
2 million concurrent connections/second
Automatic SSL Certificate Deployment
Continental preferred BGP optimization
Technical customer support
Third-party scheduling, combined with multiple protections such as CF